When you arrive at Anfield, a notification will pop-up on your phone. You can tap that to access your ticket. Alternatively, you can tap the Google Pay icon on your phone.

As you approach the turnstile, open the ticket on your phone and then tap it on the 'Contactless' symbol on the turnstile reader.
Contactless symbol
Please make sure your phone isn't locked when you try to hold it against the reader. If you have any problems you may just need to unlock your phone and try again. Alternatively, please ask the nearest steward or Fan Support who will be happy to help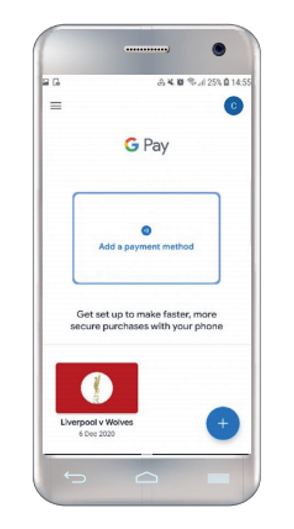 Step 1 - open Google Pay and tap the ticket.
Step 2 - ticket will be displayed
Step 3 - tap the reader
If you have any problems with NFC, you can tap 'Show Code' on your pass to use the barcode:
Step 1 - tap 'Show code'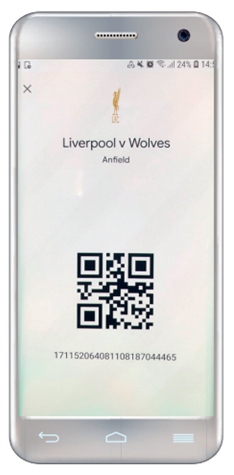 Step 2 - the barcode will now appear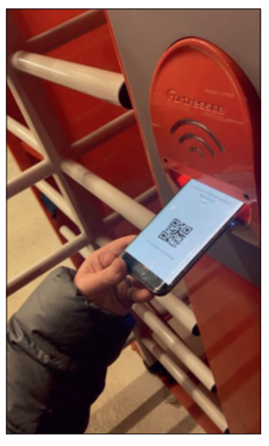 Step 3 - insert the barcode into the reader
FAQs

1. What is an NFC Pass?

An NFC Pass (Near Field Communication) is a digital ticket that can be stored on your iPhone. As part of reducing touch points at Anfield, all fans will be required to use an NFC pass to access the stadium.

2. Can I forward an NFC Pass on?

No, NFC passes cannot be sent on. The ticket owner must download their ticket to their decide.

3. What happens if I run out of battery, forget or lose my phone?

You will need to go to the Ticket Office and our Ticketing Services team will help.