What is the maximum spend limit on my Membership retail discount?
You can use your 10% discount on a total of £750 worth of products throughout the season. This means the total discount available for the season is £75. The £750 can accrued be across one or multiple orders, throughout the season.
Any additional purchases you make above that cumulative value in a season will not be subject to the discount.

You can check your remaining Membership discount balance at any time by logging in to My Account and going to the My Membership section. Your discount balance will be displayed below your Membership details: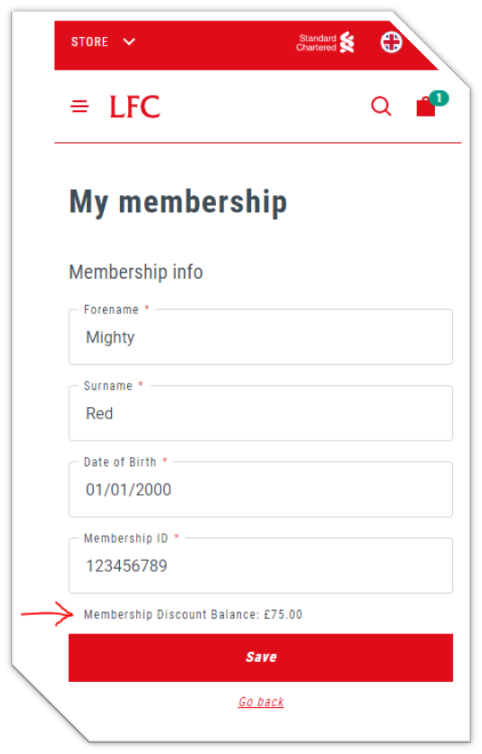 The terms of the Membership retail discount are included within our general Membership terms and conditions, which you can read here.

​
Information on the discount is included in section
7. Benefit Terms and Conditions.
Contact Us
Need more help, or can't find what you're looking for?
Contact Us
Related Articles

How do I get my Membership Retail Discount?

To qualify for the 10% Membership discount, you must have a current Official LFC Membership (Full, Mighty Red, Teen Red, Red Squad, International or Light) or Season Ticket. Read the guide in our Online Store FAQs for how to link your Membership to ...

My Membership discount isn't being applied to my order - what should I do?

There are a few reasons why your Membership discount may not be applied. Check below whether any of the reasons below could apply to you. Do you have an active Membership? Membership discount will only be applied if you have an active Membership for ...

How to reset your Membership password

Problems receiving your password reset link It's best to use Google Chrome on a PC or a laptop to change your password instead of using mobile/tablet browsers If your email service has a Safe Senders feature, please add ...

How do I access my LFCTV GO Membership discount code?

If you hold one of the following Official Membership types, you can benefit from discounts on LFCTV GO: Full Membership International Membership Teen Red Membership Members can access their LFCTV GO discount code in the Membership Benefits area. For ...

How do I redeem my Membership LFCTV GO discount code?

As an LFC Official Member you are eligible for a discount on Annual or Monthly LFCTV GO Subscription (depending on your Membership). If you are not currently an LFCTV GO subscriber you can click here to register and then follow the steps to ...