How can I Cancel my LFCTV GO Subscription?
You can cancel your subscription online as follows:

Log in to My LFC here

Click on My LFCTV GO

Select 'Cancel Subscription' (see below)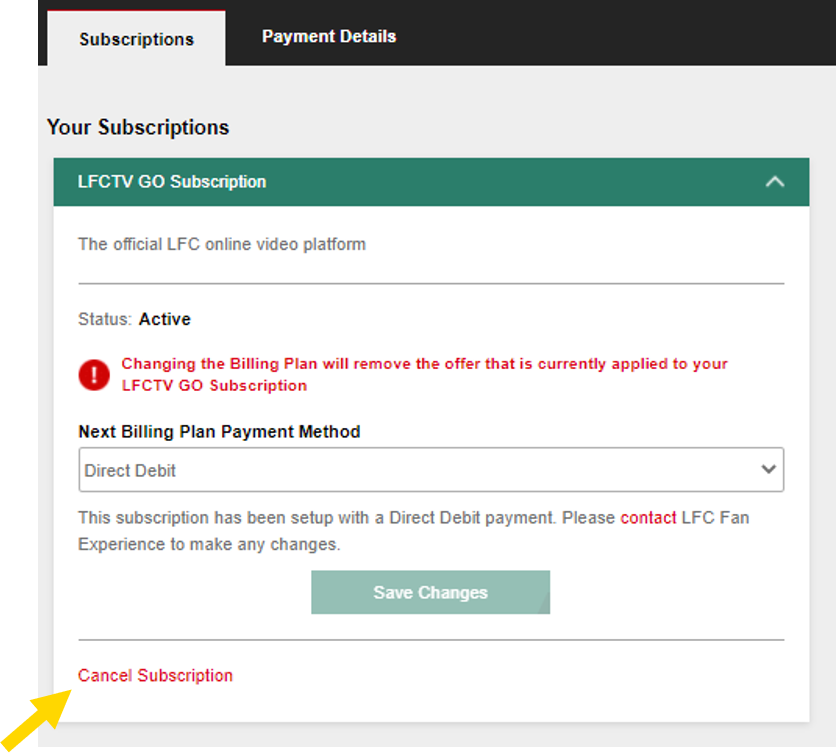 4. Complete the steps that follow to confirm the cancellation.

N.B. if it does not say you have an active subscription then the cancel subscription option will not show.
Your LFCTV GO subscription will then be terminated and no further payments will be taken. However you will still have access to LFCTV GO until the end of the last period you paid for.

You can restart your LFCTV GO subscription at any time by re-visiting My LFC and selecting 'Upgrade to LFCTV GO'.

Contact Us
Need more help, or can't find what you're looking for?
Contact Us
Related Articles

How much is LFCTV GO Subscription?

Subscription to LFCTV GO costs £49.99 for an annual subscription or £4.99 per month. For further information and to subscribe please click here. You can also register for free to access the free content and live match audio commentary.

How do I redeem my Membership LFCTV GO discount code?

As an LFC Official Member you will receive a discount code for annual or Monthly LFCTV GO Subscription (depending on your Membership). If you are not currently an LFCTV GO subscriber you can click here to register and then follow the steps to ...

LFCTV Frequently Asked Questions.

You can subscribe to LFCTV on Sky if you live in the UK or Ireland, and also on Virgin Media if you are in the UK via our LFCTV page. If you are overseas then access to the channel is available online via the club's video on-demand service LFCTV GO. ...

Can I watch Live Games on LFCTV GO?

Like other club channels, LFCTV GO is not permitted to broadcast live first team games on the website or TV channel as match coverage is restricted by broadcast regulations. This includes Premier League fixtures and all other competitive ...

I have subscribed to LFCTV GO and cannot watch videos

If you have just subscribed to LFCTV GO there may be a delay in you being given access to watch Premium videos. This can usually be resolved by logging out and back in again. If this doesn't resolve the issue please click on the contact us link ...