Tips for uploading your photo ID successfully
For best results, follow these simple steps when uploading your photo ID:

Take a photograph of your ID using your mobile phone camera, or a digital camera. 5 megapixels or above is ideal

If you use a digital camera, you must save the image to your PC in JPG format then upload it. The image size should not be reduced when you send it

Use the original ID document when capturing your image, not a photocopy

Place the ID flat on a steady surface. A dark background will work best

Ensure that the entire image is in focus, with no other objects or people in the background. The image will not scan if the full ID isn't in view. The system will automatically crop it to the correct size, so you don't need to

Try to avoid shadows or glare on the document

Make sure you capture the entire document on the photograph page, as partial images will not be enough. For passports, you only need to capture the page that displays your photo

IDs must not be altered by editing software or filters as this will fail the validation checks.




If after 3 attempts you have been unsuccessful in submitting an approved image of your Photo ID, you will be directed to the Fan Update Team who will be able to assist you in completing the process. Until you do so, you will be unable to make any further attempts.
Here are some visual examples of how to capture your photo ID: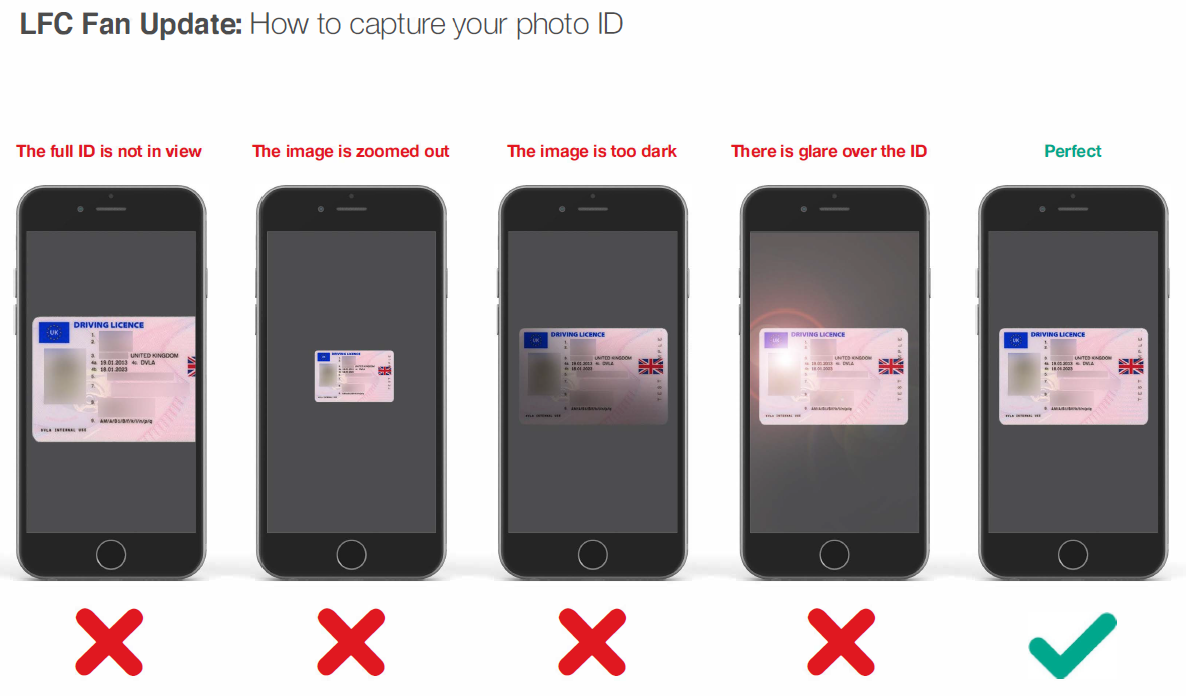 Acceptable Photo ID (1)
Acceptable Photo ID (2)
Contact Us
Need more help, or can't find what you're looking for?
Contact Us
Related Articles

I'm having difficulty uploading my Photo ID to the system - can I bring it in to the Ticket Office at Anfield?

No, please follow the process in the system and try to upload your ID. Don't be worried if you get temporarily prevented from scanning again after a few unsuccessful attempts - we can reset your tries in the system, and if you do get stuck we will ...

Why do you need photo ID?

Photo ID will help us to prove that the person who completes the LFC Fan Update process is the named ticket account holder. Once the LFC Fan Update process is completed, we will delete your ID and photograph in compliance with GDPR data protection ...

What photographic ID must I provide?

You must provide one of the following forms of photo ID: Passport Driving license Identity card, including the Post Office PASS Card Your ID must be valid (not expired) and will be subject to validation checks. If you don't have a passport or ...

I don't have any of the valid ID documents required, what do I do?

First check to see if you can apply for the Post Office PASS Card, as this is an affordable and quick alternative way to prove your age. Both adults and children can apply for one. If you are still having trouble getting ID, please Contact Us and a ...

📌 Step-by-step guide to completing Fan Update

We've published a video showing you how to complete Fan Update step-by-step. You can watch it here. Or, you can read on for written instructions below... Overview of Fan Update There are 4 steps to complete Fan Update, and it will take approximately ...